Shirts that reduce CO2
Every item sequesters ~240lbs CO2 per year by planting 5 trees
Every shirt plants 5 trees.
Sustainability is in every thread. Each item features exclusive artwork printed on sustainably sourced cotton and donates $5 to OneTreePlanted, planting 5 trees.
Transparency is key
for true sustainability
Similar brands claiming to plant 10+ trees actually only donate about $1 per item. Seriously. That $70 hoodie? Yep, ~$1 donated. I
See the difference
#REBEL
Now featuring a new series with the NYC Tree Alphabet by Katie Holten! Each letter of the Latin alphabet is assigned a drawing of a tree from the NYC Parks Department's existing native and non-native trees, as well as species that are to be planted as a result of the changing climate. For example, A=Ash.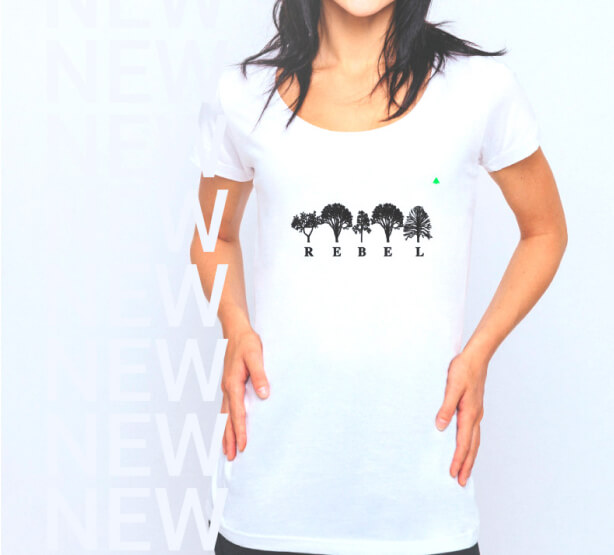 Planting trees helps combat climate change.
In fact, scientists have recently found that planting 1.2 Trillion Trees Could Cancel Out a Decade of CO2 Emissions.
Start shopping
From the planet to you & from you to the planet
Treets is carbon negative. Every item sold plants 5 trees sequestering more CO2 than it took to create.
By a longshot.
Learn more
Please only buy what you need.
It's encouraged that you only buy what you need to help improve the CO2 reduction from each item. Subscribers reduce even more CO2 and get exclusive releases.
Become a subscriber
Frequently Asked Questions
Treets is a clothing brand dedicated to donating toward the environment. We sell sustainable clothing with exclusive designs and donate the majority of profit to OneTreePlanted.

We are a proud partner of OneTreePlanted, where $1 plants 1 tree. OneTreePlanted and their reforestation partners plant trees in areas of need arounds the globe. If you would rather just donate to them instead of purchasing from Treets - please do! Our goal is simply to plant trees so we encourage you to donate directly to OneTreePlanted. After researching other reforestation partners it was clear no other was as transparent about where, when, and how the trees are planted.

All clothing sold at Treets is manufactured and produced by our partner, Teemill. Clothing features sustainably sourced organic materials produced with renewable energy in the supply chain. No plastics are used in the product or packaging. Once clothing is worn out or distressed, it can even be sent back to Teemill for recycling.

The trees are planted in areas of need around the world. Saplings are grown in nurseries prior to being planted at their destination to ensure they are primed for rapid growth. Currently our we have donated to our reforestation partner, OneTreePlanted, to plant trees in the Amazon Rainforest (150), Australia (120), California (25), US Forest Service (65), Kenya (40), Tanzania (45), and Florida (15).

All orders are processed and shipped by Teemill at their location in the UK. Orders are airmailed worldwide (we account for this in our carbon footprint) and usually arrive in less than 12 business days.
Holy totes!
Now featuring environmentally concious tote hand bags. Each tote plants 5 trees.
Shop totes